Ateliers Creative Club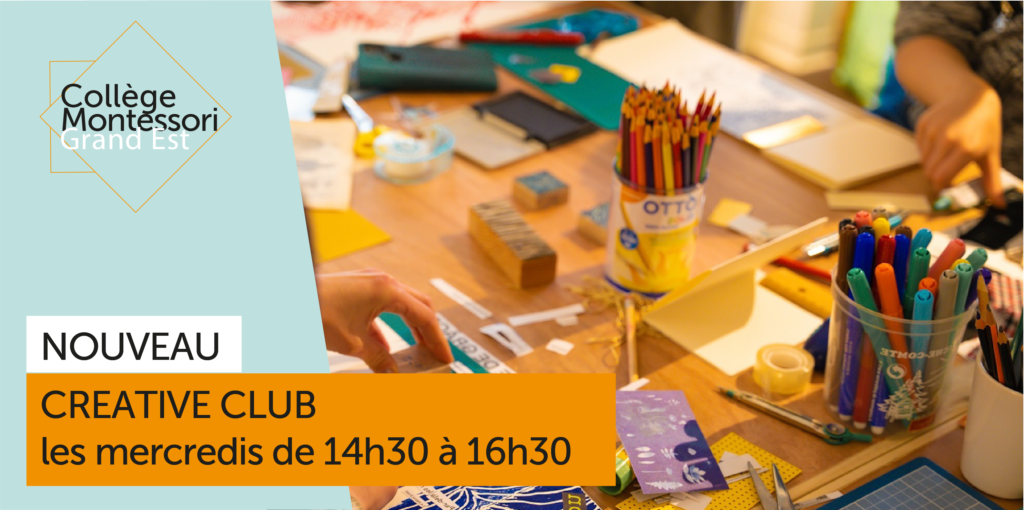 Des ateliers créatifs, in English, pour apprendre tout en s'amusant !
---
Learning by doing and playing !
A programme of entertaining and creative activities for fun afternoons and effortless progress in English. Cooking, making, gaming…
WHEN?
every second wednesday (see calendar)
02.30 pm to 04.30 pm
WHAT?
Cooking, making, DIY-recycling, collaborative gaming… so many opportunities to discover Anglo-Saxon traditions and culture with your hands in action.
WHO IS IT FOR?
Pre-teens from 9 to 12 years old (approximately 😉 ) Especially if they want to progress in English in a good mood!
English level: A1 (beginner) to B1.
Up to 8 participants.
WHERE?
Collège Montessori Grand-Est, 50 rue de la Commanderie, 54000 Nancy.
A programme proposed by Romane, English teacher and trainer in edutainment, at R'Langues — English into action!
---
Apprendre par l'action et le jeu !
Viens t'amuser et créer au Creative Club, pour progresser en anglais dans la joie ! Pâtisserie, Grands Jeux, Bricolage Nature et plein d'autres surprises t'y attendent.
QUAND ?
de 14h30 à 16h30
1 mercredi sur 2 (voir le calendrier)
QUOI ?
de la pâtisserie, des grands jeux collaboratifs, des bricolages-recyclages … autant d'occasions les mains en action de découvrir les traditions et la culture anglosaxonnes.
POUR QUI ?
Les pré-adolescentes et pré-adolescents de 9 à 12 ans (environ 😉 ) Surtout s'ils ont envie de progresser en anglais dans la bonne humeur !
Niveau d'anglais : du niveau A1 (débutant) à B1.
Jusqu'à 8 participants.
OÙ ?
Dans les locaux du Collège Montessori Grand-Est, au 50 rue de la Commanderie à Nancy.
Un atelier proposé par Romane, professeur d'anglais et formatrice en ludo-pédagogies chez R'Langues — l'anglais en action !
---
Inscription à l'année (novembre à juin)
Paiement en 1 fois : 300€
Paiement en 3 fois : 100€
Paiement au mois : 38€ / mois (premier mois dû à l'inscription)
---
Vous avez des questions avant de réserver la place de votre enfant ?
Contactez Romane au 07 49 95 47 21
ou par formulaire :